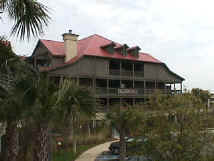 Welcome to My
Disney Vacation Club
Hilton Head Island Resort Page


Current Time and Temperature at Hilton Head


Hi, I'm Tommy.

Many people seem to have a lot of questions on the Disney Vacation Club Hilton Head Island Resort, so I thought I'd make a web page that gives the weather and some links to some photos and activities. I'll try to keep this updated with current items, and add more as I find them.

Please bookmark this page and let others that are interested in what Hilton Head Island has to offer know about it. It's a beautiful place.

Weather's always a question. Here's the average temperatures and rainfall of Hilton Head by month.

To help you find building numbers at DVC, here's the map of DVC Hilton Head Island Resort.
Here's a map of how to get to the Disney Outlet Store from the resort.

Here's my Photo Album of DVC HH Resort, including some panoramic photos.

I like the live cam at Harbour Town.
For the best information on the Disney Vacation Club check out
The Disney Info Station


[an error occurred while processing this directive]

Hilton Head Island Golf
Lots of good golf at Hilton Head Island. The Disney Resort often has a mini-tournament for guests which includes a ride to the course, green fees and a cart for a very reasonable price. Here's a nice link to the courses on/near Hilton Head.
If you're interested in golf equipment, check out the site below. They had a special two weeks ago and I got a brand new sand wedge delivered to my door for $1.00. Honest!



Some of My Favorite Hilton Head Island Links